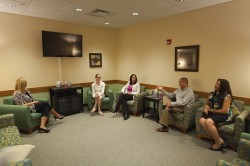 Group counseling is just one of many options of counseling that are offered in both inpatient and outpatient drug rehab programs. Using psychotherapy, group counseling involves a single therapist or in some cases multiple therapists working with a small group of people at the same time. This is one of the most widely available therapy methods at drug rehab centers and is typically the foundation for all treatment programs.
Although group counseling can be used alone, it is usually integrated into a total treatment regimen that includes individual counseling, medical intervention, and other forms of therapeutic care. Together, these means of treatment are geared at helping the recovering addict to work one-on-one as well as with their peers and effectively reintegrate into society post addiction.
Our counselors can help you find a group counseling program near you. Call 1-800-895-1695 for help
How Does Group Counseling Work?
Typically, group counseling sessions include about six members but smaller groups may only include three members while larger groups could have a total of twelve participants. The group is moderated by a counselor or therapist and the sessions typically take place once or twice each week for a period of about an hour and a half.
Most group counseling sessions are considered either open group or closed group. Open group sessions are open to the public and allow new participants to come in at any time. Closed group sessions are open only to a core group of participants who are considered members of the group. These groups can become more personal in nature and the members of the group are typically very close to one another by the end of the sessions.
Benefits of Group Counseling
Group counseling provides patients with many advantages including:
a sense of community
ability to interact with peers and help others
low cost treatment
a safe place to practice new behaviors or to react to situations without having fingers pointed
learn how to interact socially in a positive way
If you enter into group counseling with a positive attitude and a will to get the most out of the group, there is a good chance that you will have an excellent outcome. Most of the time, group counseling sessions will take place for a period of at least a few months and in many cases, members attend group sessions for a period of one year or more. This method of counseling provides a cost effective way to help you help yourself.
For help finding a group counseling program near you, call 1-800-895-1695